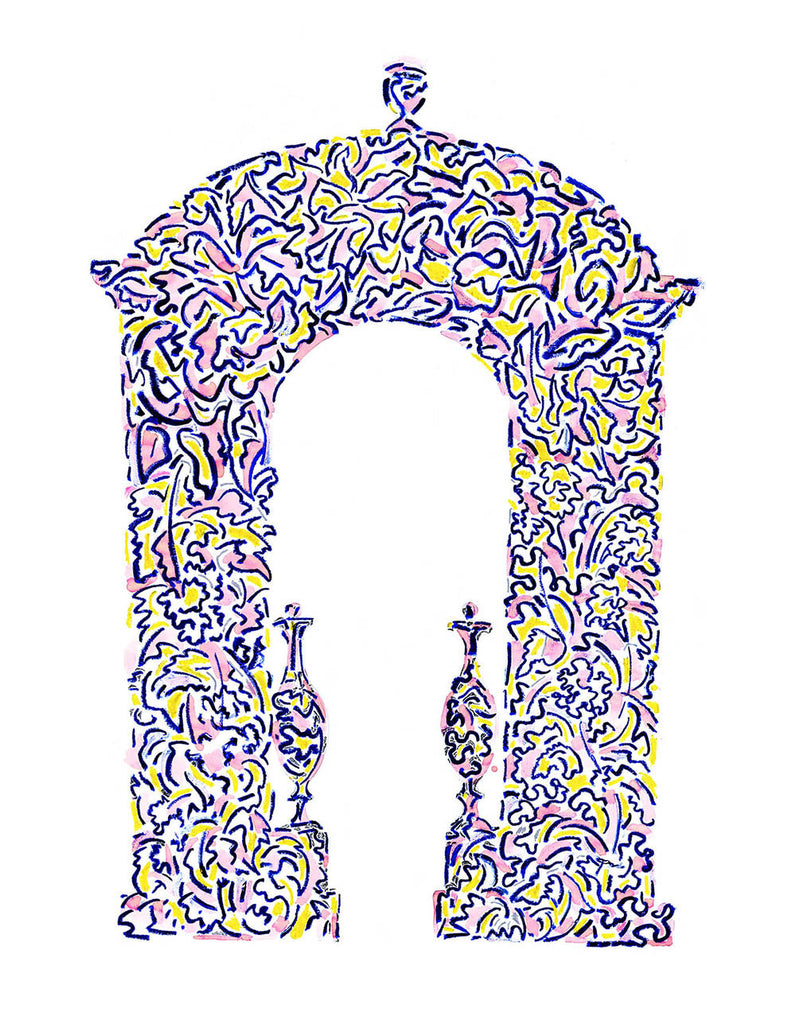 The Oriental Arch
This panel takes part of the first collection "Behind the Gates", where the arch has been slightly invaded by delicate branches and flowers. The silhouette of the entrance is punctuated by pink and yellow. It creates a vibrant and shiny composition. It's an ornamental piece bringing the feeling of a mise en scène to the room. Suitable for curtain making and as a hanging panel.
Dimensions:
155cm wide 
300cm high
Material:
100% cotton
Delivery & Return
We send the parcels within the UK via UPS, Royal Mail and other delivery companies.
UK STANDARD DELIVERY: £15
EUROPEAN STANDARD DELIVERY: £25
REST OF THE WORLD DELIVERY: Specific to each order
If it is a large item delevery above 20 kg, we will contact you of the specific price of the item.
We do our best to dispatch all orders within 48 hours (Monday to Friday only), but please allow up to 5 working days for delivery. If an item is out of stock we will inform you and let you know when it will be available. We will endeavour to inform you of any such situation to avoid disappointment.
Claire de Quénetain will have no liability to you for any delay in doing so for any damage or defect to goods de- livered that is caused by any event or circumstance beyond our reasonable control.
If you want to return the goods, please send it back in its original condition and accompanied by an email order confirmation or online despatch note within 14 days for a refund or exchange to:
Claire de Quénetain
Rue Vilain XIIII, 37 - 1000 Bruxelles - Belgium
Please note that cut fabric is non-returnable.
Refunds:
Please allow up to 10–15 days for a full refund from date of receipt of goods.
Terms & Conditions
We take all reasonable care to ensure that all details, descriptions and prices of products appearing on the website are correct. The colours of the pictures showing the products might be slightly different with the original product due to limitations of photographic and web processes and we cannot be held responsible for any variations in colour that may arise caused by your browser or computer software. As the products are hand-made, we do everything to deliver you the most accurate product quality as possible.
Claire de Quéntain LTD registered in England, Trade Mark No.00003106240